Yoga in the tradition of T. Krishnamacharya & TKV Desikachar
A focused yoga practice integrates the physical, mental, and spiritual being. Whether promoting recovery from daily tensions and physical exertions or simply increasing ones mobility, a regular yoga practice fosters improved strength, balance, flexibility, mindfulness and overall general health.
Join us for unique, insightful yoga instruction in small, personalized classes.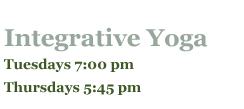 Extend your muscles - expand your lungs - experience more openness and space in body and mind! Integrative and highly adaptive, Viniyoga sequences are used to achieve physical, mental, and spiritual well-being. In these classes you'll increase muscular strength and stamina. Promote flexibility, better mobility and improved posture. Find your balance and create a stable, mindful connection to yourself through coordinated breath and movement. Viniyoga is accessible to all fitness levels.
In each class students learn a wide variety of yoga postures, breathing techniques, visualization exercises, and meditative approaches. Classes are limited to eight students, allowing a high degree of individual attention while keeping to the designed intent of each class.
Our Yoga Teacher:
Leslianne Lee
Registered Physical Therapist
Certified Yoga Instructor
Yoga Therapist
Yoga Class rates:
First Yoga Class FREE!
Offer is valid for one free class pass per student, per unique class.
Drop-in.......$18.00
Packages and Series:
Yoga Class packages and series expire 180 days from date of purchase.